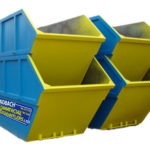 When you need a scrap skip in Crewe, contact Sandbach Commercial Dismantlers.  It is one of our many services offered to make scrap metal recycling easier for our customers. We will drop a skip at your location, you fill it and we'll pick it up. We pay good prices for scrap metal and it's cluttering up your factory, auto garage, junk yard, warehouse, shop and barn. Are you planning a clean out of your business space? Call us first and we can help you estimate the size skip that will work for you. When you finish your clean out, call us and we'll remove it. If you accumulate scrap regularly, we can arrange a contract to remove it on a scheduled basis. With the skip on site, the scrap is out of your way.
At Sandbach Commercial Dismantlers, we buy anything from anywhere. In Crewe, a scrap skip can be delivered, often on the same day. If you have questions about what we accept just call us and ask. To give you a general idea, we accept specialists metals like gold, silver, platinum and nickel. We will gladly buy all grades of copper and aluminum, clean or dirty. Iron, chrome, steel and zinc. The materials do not have to be broken down for us to accept them. For instance, you can toss car engines and batteries into your skip. We accept old tools, machines and equipment, no matter the condition.
You might not need a skip in Crewe for some recyclables but we will collect them anyway.  Planes, trains, whole automobiles and submarines in any condition would be in that category. So would construction diggers and tractors. Maybe you have wondered where all those giant machines end up. We buy and dismantle them. Then we recycle the materials by selling to manufacturers of new products. Now you know so keep your eye open and contact Sandbach Commercial Dismantlers if you need a scrap skip for all your scrap disposal needs. For your business needs, let us bring out one of our skips so you can tidy up the place. There is no extra charge for skip service plus we pay cash for your scrap.