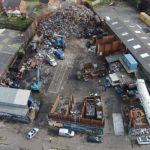 You may have heard that scrap cars wanted in Middlewich by Sandbach Commercial Dismantlers is an excellent way of disposing of your old car. You will be delighted to know that we buy old cars for cash. Give us a call and we will collect your old scrap car. We will take it to our authorised treatment facility for the depollution and disposal of the vehicle.
Wondering what to do with your old scrap car? In Middlewich, scrap cars wanted by our reputable scrap merchants is an excellent means of legally getting rid of an old, unused scrap vehicle. We are an authorised treatment facility. ATF centres are the only centres legally allowed to dispose of scrap cars. As an ATF, we have the means to deal with hazardous parts of the vehicle. These include oil, brake fluid and batteries. An ATF is the only place that is authorised to issue the Certificate of Destruction (CoD). Recycling your car elsewhere is a criminal offence.
When an authorised ATF says scrap cars wanted in Middlewich, you can be sure that your old car will be properly recycled without damaging the environment. If you would like to inquire about scrap cars wanted, contact Sandbach Commercial Dismantlers. We will provide a certificate of destruction as evidence that your car has been legally destroyed and recycled in an environmentally responsible manner. Once you receive your certificate, you will be able to claim any full months of remaining car tax from the DVLM. Not only is this a responsible and legal way of disposing of your old car, you can also make a little extra cash in the process! We were founded in 1985, and have grown to include an impressive scrap metal recycling and demolition services. We take pride in maintaining great working relationships with all of our clients, by providing a professional service at excellent prices.