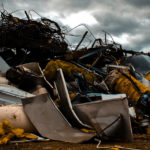 Commercial dismantlers in Congleton are renowned for their recycling of ferrous and non ferrous metals. We not only buy old cars and other scrap metal but we will disassemble decommissioned machines and remove them from your premises no matter how large. Any metal item that is standing and rusting in your factory can be turned into cash. Many factories have old machines that have been superseded by newer models and because of their size it is not deemed economical to remove them. They take up useful space and limit the area inside the factory. These are the very machines we are looking for.
If you generate any metal off cuts in your production process we will be very happy to place a skip in your yard. In Congleton, commercial dismantlers pay cash for scrap metal. We will collect old cars and all kinds of scrap metal. Old agricultural machinery and obsolete trucks and trailers are quickly turned into cash. We also undertake demolition of factories in many sectors and our team will strip the superfluous materials out of the building before we begin demolition. We also have an asbestos management package for our clients and our team are highly trained in asbestos handling and removal. We have a vast range of specialist equipment that aids us in demolition work. Our 360 tracked excavators range from 1.5 to 50 tonnes loads and are equipped with various attachments suitable for the project. Our health and safety record is exemplary.
We are commercial dismantlers in Congleton and will buy any metal at a very good price. Contact Sandbach Commercial Dismantlers today if you have any scrap metal lying around that is no longer useful or needed. We have been in the scrap metal business for over 30 years and are one of the leading metal recyclers in the country. We offer skip hire and will also undertake large scale factory decommission work. We purchase our metal from as far afield as Europe and Scandinavia. We will purchase anything made from metal even old aeroplanes.