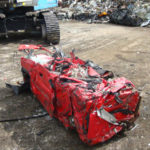 Get top prices for your scrap vehicle in Crewe. Sandbach Commercial Dismantlers has more than thirty years' experience in this sector. We have established a well-deserved reputation for reliability, pricing and excellent services. We began operations in Sandbach where we focused on car breaking services, buying army surplus and buying scrap in a small way. With a view to scaling up  our operations, we moved to our current location in the large yard at Moston Road, Sandbach. Our client base extends throughout the neighbouring regions and beyond. Though we're based in Cheshire, our operations extend throughout the country and Europe. What sets us apart from our competitors is our commitment to excellent services, top rates and a customer centric approach.
No matter how large or small your project, we are glad to take it up. In Crewe, scrap vehicle projects help to dispose of old, damaged and unusable vehicles. Often, people fail to understand that even a completely totalled vehicle has value. However, statistics show that nearly two million vehicles in the UK are scrapped annually, making this a huge and very lucrative enterprise. Today, there are very strict environmental regulations regarding End of Life directives and rules regarding copper theft, and disposing of batteries. We are a fully-licensed and certified service provider and a registered waste carrier, certified by the Environmental Agency. Today, the entire operation is much smoother and more efficient as compared to the process followed in earlier decades.
In the days gone by, people had to pay to get a scrap vehicle in Crewe taken away. However, today, scrap dealers pay good rates for scrap metal in any form and condition. This is because recycling is the need of the hour and technology has advanced much more, allowing better salvage of metal. You can contact us and one of our team members will arrange the collection, de-pollution and disposal of old vehicles. Our rates are the best in the business and we make the payment within the hour. You don't need to worry about hiring a tow vehicle or bringing the car to a distant scrapyard.