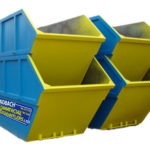 Skip hire in Macclesfield is the best way to manage scrap metal waste in your business. Scrap metal is a headache to handle. They are bulky and take up a lot of useful space. Most people prefer keeping scrap metal in heaps in isolated areas. However, with time the heaps become too big to be housed at your premises. Scrap metal collection is an important waste disposal solution available to companies and businesses. Sandbach Commercial offers skip hire, a great solution for scrap disposal. Our selections of skip are convenient and great for a wide range of applications. Whether you are having a clearance or demolition work, we have the best skip for the job.
If you are a business owner in Macclesfield, skip hire is a great way to sort your scrap metal. We offer free delivery of the skip to your premises to serve all your needs. The collection is also free and our trucks make timely pickups to ensure no heap of scrap metal remains in your property. Scrap metal disposal in skips facilitates the organisation of waste. Wastes from demolitions or garbage clearance are well-sorted before pickup. Moreover, skips make collection fast and efficient. The pickup trucks are specifically designed to facilitate skip collection without any fuss.
For fast and efficient scrap metal clearance consider skip hire in Macclesfield. Sandbach Commercial Dismantlers offers some of the best scrap metal disposal and collection services. We are a leading name in the scrap metal industry. Our services are unparalleled and our prices are competitive. We accept both ferrous and non-ferrous metals. No matter the amount of scrap, we will take it. Our services cover both domestic and commercial clients. Decades of experience have turned our business into one of the best scrap metal dealerships in town. We run an efficient collection system and our services meet the highest standards. We have fostered long term relationships with numerous businesses and our reputation is unmatched. Contact us today and get the best scrap metal services in town. From skip hire to free collection, we make scrap metal disposal convenient.