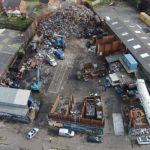 As commercial dismantlers in Cranage, we have made customer satisfaction and safety our priorities over our nearly 35 years in business. We deal with hazardous projects which require specialised training and hazardous material handling and disposal. We are fully licenced for the removal and disposal of such materials according to government health regulations. Our engineers participate in ongoing training to stay up to date and prepared for whatever they may encounter on the job. When we are dismantling a site that contains asbestos, chemicals or other dangerous substances, we are bound to protect the general population against exposure.  Our company safety record is exemplary. We can even dismantle your factory equipment and prepare it for removal to a new location for set up.
We as people build huge factories, foundries, ships, planes, trains and high-rise buildings. In Cranage, commercial dismantlers eventually are called upon to safely dismantle and dispose of all components of the structures. Even vehicles as small as cars have to be dismantled. Over our many years in business, we have perfected the methodical progression to accomplish the task on any project. For each project, we make our plan. Then we begin by removing all hazardous materials for segregated disposal. We then extract the many kinds of metal components and separate them out for recycling. If there is a market for even plastic and timber products, we will set them aside.
When our commercial dismantlers in Cranage are left with only the supporting shell we break it up if it's recyclable. Otherwise, we demolish and dispose of whatever is left. It's the ultimate fate of every structure currently under construction or already standing. We are proud of our work because we put so much raw material back into the supply chain that would otherwise overwhelm our landfills, contaminate our environment and increase production costs for new builds. And in doing so, we create many jobs and conserve natural resources. Contact Sandbach Commercial Dismantlers when any type of structure, stationary or mobile,  has reached its end of useful life. Our team is ready for the task wherever the location may be.