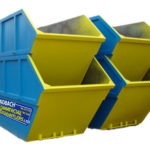 Consider skip hire in Northwich when you regularly have a large collection of scrap metal offcuts to dispose of. We can assist you with the provision of a skip, and we can also assist you with the collection of the scrap metal offcuts you have collected. We do not charge for delivering a skip for long term or short term use and there is no charge when we collect. As a registered and authorised scrap metal company, we offer a range of services to ensure the recycling of scrap metal. We offer good prices for your unwanted ferrous and non ferrous scrap metal. If you collect all your scrap metal offcuts in one designated container, it will benefit your business in a number of ways.
If your business regularly produces scrap metal offcuts, it is prudent to collect them in a designated spot. In Northwich, a scrap metal skip hire will ensure that your business premises remains safe, neat and accessible. When your hired skip is full, give us a ring, and we will collect the scrap metal from you at a time that suits you best. We will weigh and sort your scrap metal, and pay you what it is worth. Recycling scrap metal is important for any business, especially one that collects large quantities on a regular basis. We aim to make the process easier for you. If you are in the building industry, ensure that you have a scrap metal skip on site to make it both easier and safer to place all the unwanted metal in a secure place.
Skip hire in Northwich is designed to give you peace of mind. Our company has been established since 1985, operating throughout the country and Europe. We are a Worksafe Contractor accredited by Constructionline and CHAS.  We are Also an Environment Agency registered Waste Carrier, and a Member of BMRA. Contact Sandbach Commercial Dismantlers when you need affordable skip hire. We focus on maintaining excellent customer service and relationships with our clients. We look forward to meeting the scrap metal recycling needs of your company.