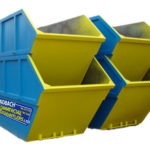 To ensure your outdoor workspace remains tidy and safe, consider using scrap skips in Tarporley for your business property. Thus, if your business generates large amounts of scrap metal, it makes sense to have an allocated area in which to store it. If scrap metal is left lying around is not only an eyesore, but it is also a potential danger those using the area. Making use of a skip to contain the scrap metal makes perfect sense. It is also easier to reach when you want to remove it from the property.  Speak to us and find out more about our available skips for your scrap metal. We have an extensive selection of skips, all of which are practical and convenient for your scrap metal pieces.
For businesses large and small in Tarporley, scrap skips are a necessary addition. We can assist you with different size skips to meet your specific requirements. Hence, you can choose from 8 to 50cu yard skips. Furthermore, we will deliver the skip of your choice free of charge to your property. In addition, you are welcome to hire one of our scrap skips for as long as you need it. If it is a short-term project, or a requirement for a longer period of time, we are happy to oblige. While we were first established in 1985, we introduced our scrap skip hire service in 2003. We aimed to become more pro-active about steel recycling and by introducing our skip service, we enlarged our customer base.
Scrap skips in Tarporley are an excellent option for your business. In addition to our scrap skip hire, we also offer a range of other services relating to scrap metal. We will purchase your scrap metal and pay the current rate for the scrap metal. To find out more about our scrap skips, please contact Sandbach Commercial Dismantlers today. As an authorised treatment facility, we will purchase your old vehicle and recycle it responsibly and ethically. We are happy to pay up to £400 for vehicles and collect them free of charge within the hour. Furthermore, we firmly believe in the importance of recycling scrap metal, lessening our carbon footprint and helping towards a greener earth.