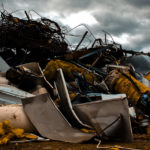 Scrap cars in Alsager can be a problem if they are not seen to. Some of us are leaving them sit on the street, taking up space because we're not sure what to do with them. Others of us have not parked our current car in the garage in years because it houses the car or cars that no longer run and are ready for scrapping. We hang on to old cars for sentimental reasons or because Dad wants to rebuild it "someday". Grown children leave their old cars with us because they have no place to park them right now. They want to get it running again and sell it but they never seem to find the time. Tell them you will sell it for them and they won't even have to tow it away themselves.
Sandbach Commercial Dismantlers is a reputable scrap dealer. In Alsager, scrap cars are a speciality of their business. There are government rules to environmentally safe disposal of an old car. Once we turn our scrap cars over to Sandbach Commercial Dismantlers, they pay us and take them away. What's in for them you may wonder? At least 75% of a car is recyclable. They dismantle the car and separates out the bits that can't be recycled, especially liquids like antifreeze and gasoline and small parts that contain mercury. It's all done according to government guidelines. So the plastics go in one pile, the ferrous metals in another and the nonferrous metals, tyres and batteries all into their own pile. They go to the recycle companies that have a market for them with manufacturers that use them to produce new products from old.
Often when we need replacement parts for our car, used parts from old scrap cars in Alsager are good enough. We pick up perfectly good starters, alternators, tyres, doors, window motors and more for cheap and repair our cars. Our trash really is someone else's treasure. Sometimes we are the seller and other times we are the buyer. The secret to successful recycling seems to be keep it moving. Contact Sandbach Commercial Dismantlers for assistance with scrap cars. Let them haul the junk car away. The money they pay us will buy a used tyre to keep as a spare. Our old worn out spare tyre can be recycled into sandals and so it goes. Ultimately everyone wins because so little goes into the landfill.