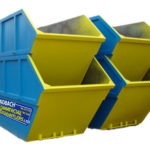 Reliable skip hire in Congleton is available from Sandbach Commercial Dismantlers. If your business has collected large amounts of scrap metal, skip hire is ideal to ensure they are safely collected and stored. When your skip is full, give us a ring and we will collect the scrap metal from you, free of charge. Recycling scrap metal is an important part of reducing our carbon footprint. By recycling, you reduce the need to mine for new ore. Old scrap metal can be recycled and made into new metal products. Our skip hire is an excellent option for business owners wanting to do their part for the environment. Speak to us about our available skips for hire.
Our prices are affordable. In Congleton, skip hire from our team is reliable. It is reliable because we will collect the scrap metal from you at a time that suits you best. If your business regularly produces large amounts of scrap metal, we can arrange for a regular collection to suit your needs. We have sizes from 8 to 50 cubic yards and delivery and collection is free. Our team can also assist if you are clearing a site before demolition. Additionally, we can also do the clear out and demolition if you require. Hence, our team has the training and knowledge to take it down or apart. We have many years of experience in the demolition of structures and have assisted with many demolition projects. All the metal is recycled for use in new manufacturing and building products. Thus, every bit we collect is valuable materials saved from the landfill.
Skip hire in Congleton is available for domestic and commercial use. Furthermore, you are welcome to bring your scrap metal to our facility. However, you could use our skips on your premises for convenience.  We've been established for over 34 years and we've grown into an industry leader in the area. We maintain both hazardous waste and waste carriers licenses. To find out more about our skip hire, contact Sandbach Commercial Dismantlers. As such, find out more about how you can contribute to the recycling effort. Consider affordable skip hire from our team.